There is a man in the country of Thailand that is very ill and needs money for a procedure. A friend of his Ghadafi is accepting poker stakes, and the winnings will presumably go towards helping the man in Thailand pay for his procedure which without he may very well die. Here is the post-Ghadafi made that explains the situation: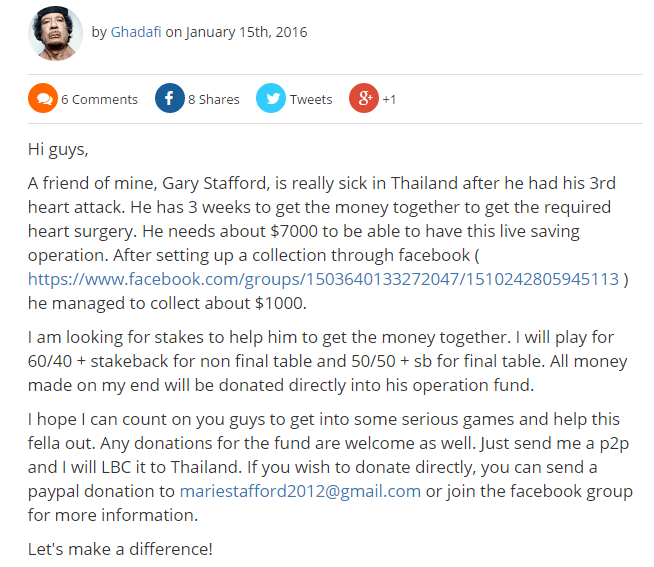 You can click the image and then you will be in the thread. I would personally help fund this but don't have any Bitcoins at the moment. When I had some earlier today, I didn't think about this post, so this post is to help raise awareness for Ghadafi and his friend I hope you people in the Bitcoin community can lend this guy a helping hand.
I believe this post at the very least is helping get the word out about the situation the man in Thailand. Some poker players are degenerates and if Ghadafi is a degenerate than he is a degen with a heart of gold to be willing to give up his time and patience to play and give winnings towards the procedure this man desperately needs.
If you would like to sign up to Betcoin.ag and help just click one of the banners above or below this post. Then go to the community forums section and you should see this post in the top 10 if you do not come back to this post and click the image of the text written about this situation by Ghadafi.
Here is a picture of the man who needs the procedure to save his very life: