I have covered some tournaments, but this is the 1st Omaha tournament that Bitcoin Spies is covering. So I will do this through this post I will update this post with big hands and bust hand if there is a bust hand in this tournament.
My favorite game is PLO8, and close 2nd is PLO, and I am quite good at all forms of PLO but don't prefer PLO 5 card or any of that kind of nonsense.
If you would like to play this freeroll at Betcoin.ag with me, just click one of the banners below or above this post to get started playing at Betcoin.ag.
Now on to the plays, they will be updated as they happen.
Well tried to double up guy goes all in with nothing I push him there, and then he hits one of his few outs the Queen, which I also had but he had an ace kicker we were all in on the flop, and I had tens he had nothing.
But #luckbeatsskill I guess here is the hand: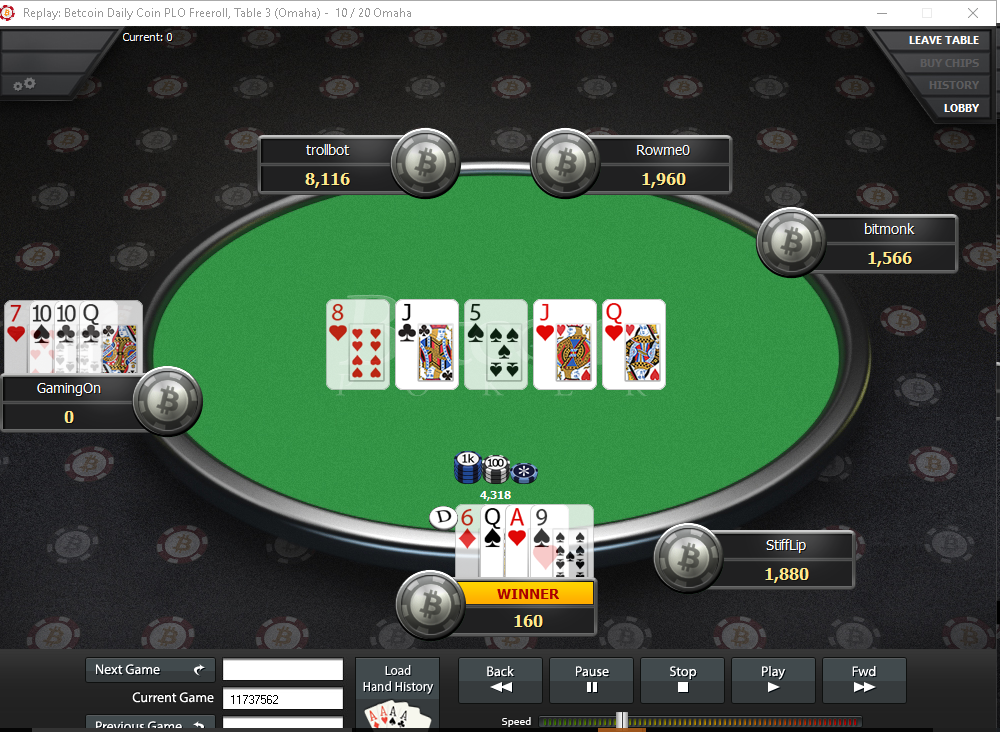 I went out in 34th place due to this horrible suck out! 🙁 Oh well, better luck next time for me I guess.
Update 3:28 – I had some bonus points from me playing and converted them to Bitcoins and was able to rebuy in the freeroll. Will update as I get hands or even if I get another busting hand.
Update 3:30 – Tried to bluff since everyone was checking guy was slowing playing quads R.I.P. until next tournament. Here is the hand: